Description
Highlights
Aqua Tec Wet & Dry Seal
Close Cut Blades
Long Lasting Blades
Cordless Operations


Aquatec Seal
The Aquatec Seal in AT610/14 makes it completely waterproof. Therefore、 you can use this highly efficient shaver by Philips both in wet as well as in dry conditions. One of the highly advanced features、 the Aquatec Seal enables you to shave even when you are under the shower. In order to have a soothing shave、 you can apply some shaving gel or foam so that you can have a gentle shaving without having any irritation on your skin. It helps you in complete grooming and also keeps your skin smooth and soft、 adding to your stunning looks.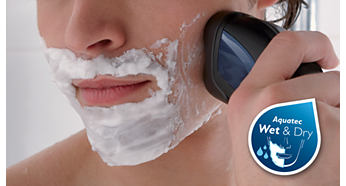 Close Cut Blades
This highly efficient shaver by Philips consists of the Close Cut Blades that successfully eliminates even the minute hair from your face. Therefore、 the AT610/14 gives you a clean shave in very less time. The Close Cut Blades comes with the rounded tips that help the shaver in smooth gliding on the face. It adjusts well to the curved areas and gives a highly efficient shaving without harming your skin. Consisting of the Close Cut Blades、 this shaver is certainly going to give you a perfectly groomed face.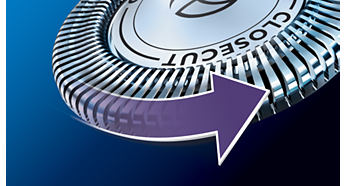 Two Years Consistent Blade Performance
The sharp blades of AT610/14 are designed to give a consistent performance for approximately two long years. But in order to get an optimum performance for a long time、 it is recommended to change the blades after every two years of usage.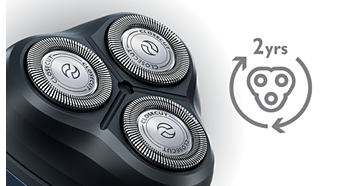 Powerful Battery
Facilitating the cordless operation、 this highly efficient shaver by Philips enables you in instant grooming anywhere and anytime. In other words、 you can keep the AT610/14 plugged-in in order to do your shaving but it can also be used without the cord. It uses a highly efficient NiMH rechargeable battery that is meant to add to the convenient usage of the shaver. It gets fully charged in approximately 10 hours and therefore、 it gives you a shaving time of approximately 30 minutes. It means that when fully charged、 you can have 10 shave with this highly efficient and advanced shaver.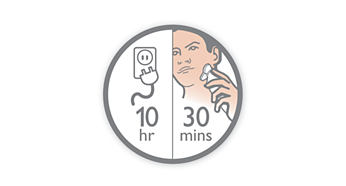 Dual Voltage System
One of the best features of AT610/14 is that it supports the Dual Voltage System. It means that when used in a foreign country、 the shaver automatically adjusts to the higher current system. You won't need a transformer in order to convert the current. Therefore、 you can easily carry along this shaver by Philips、 when travelling abroad. It supports both the 110 Voltage Systems and the 240 Voltage Systems and thus it makes a hassle free usage even when away from home.
Washable Heads for Quick Rinse
The washable head in AT610/14 helps you in keeping the head clean every time after using it. You just have to pop up the head in order to open it and then you can put it under the running water to quickly clean it. Moreover、 the washable head in this shaver by Philips also enables you in using the shaver under the shower.
Integrated Pop-Up Trimmer
AT610/14 incorporates an Integrated Pop-Up Trimmer、 with which you can trim your sideburns and moustache conveniently. Therefore、 it helps you in keeping them in proper shape and size all the time. With the help of this Integrated Pop-Up Trimmer、 you can quickly trim your sideburns and moustache without any hassles.
Unique Ergonomic Grip
Wearing an anti-slip coating、 the handle of this shaver by Philips makes a firm grip in to your hands. It makes it convenient to hold and gives full control while shaving. The handle carries a unique and ergonomic design that is meant to add to the efficient performance of the shaver.